Environ Body EssentiA Range

The Body EssentiA range contains a highly effective combination of powerful vitamins, antioxidants and moisturizer
Environ EssentiA Body Oil is a light nourishing oil containing vitamins A, C and E to assist in moisturizing the skin. It is excellent for improving the appearance of dry and sun-damaged skin, leaving it looking and feeling velvety soft  $98.00 (includes GST)  100 ml
Environ Body EssentiA Derma-Lac Lotion contains alpha-hydroxy acids which help to soften the texture of rough areas of your skin by gently removing dead skin cells.  A light, easy to apply lotion to re-energize dull and tired-looking skin.  It improves  the texture and appearance of your skin  $105.00 (includes GST)  200 ml
Environ Skin EssentiA Range
Beautifully radiant and healthy looking skin has the right levels of Vitamin A. The step up system of the skin EssentiA range contains a combination of Vitamin A, C and E, powerful antioxidant and other essential ingredients to assist in revealing the skin's natural beauty 
Pre-cleansing Oil: A plant derived oil-based mild pre-cleanser that helps to lift and remove excess surface oil, sunscreen, make up and environmental pollutants from the skin's surface  $52.00 (includes GST)  100 ml
Cleansing Gel: This cleansing gel gently remove excess oil, makeup and surface impurities. It rinses off easily and leaves the skin feeling refreshed and clean  $79.00 (includes GST)  200 ml
Hydrating Clay Masque: A multi tasking mask containing pro-vitamin B5 and vitamin E as well as kaolin, that can be used as a daily micro exfoliant, as a 20 minutes hydrating mask or as an overnight mask  $62.00 (includes GST)  50 ml
Vita Antioxidant AVST moisturizer 1, 2, 3, 4 and 5: The cornerstone of Environ treatments is Vitamin A, that has a corrective effect on the skin, smoothing, protecting it from the ultraviolet radiation and free radicals. The Vita-Antioxidant AVST Moisturizers 1-5 are moisturizing creams containing a selection of vitamins, peptides, botanical extracts and antioxidants. This range works as a STEP-UP SYSTEM it helps the skin become gradually more comfortable with increased levels of Vitamin A   (AVST Prices range from $ 85.00 to $ 120.00 for 50 ml)
Environ Youth EssentiA Range
The Vita-Peptide C-Quence serums have been awarded the Swiss Vitamin Institute Certificate which verifies that the products tested contain the Vitamin Strength declared.  
 Antioxidant Defence Cream: This moisturizing cream assists in combating the effects of free radical damage by helping to  enrich the skin with high levels of vitamins and antioxidants  $227.00 (includes GST)  35 ml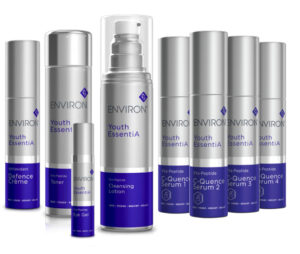 Vita Peptide Eye Gel:  A quick absorbing eye gel containing essential vitamins, antioxidants and peptides to assist in hydrating your skin, improving skin tone and elasticity  $114.00 (includes GST)  10 ml
Hydra Intense Cleansing Lotion: A rich and delicately fragranced cleansing lotion that helps to remove make-up and surface impurities, leaving your skin feeling clean, nourished and moisturized $91.00 (includes GST)  200 ml
Vita-Peptide Toner: This Vita-Peptide enriched toner has both moisturizing and anti-aging properties that will leaving your skin feeling refreshed and help improve its overall appearance  $134.00 (includes GST) 200 ml
Vita-Peptide C-Quence Serum 1 to 4 Plus: The Vita Peptide C-Quence Serums 1 to 4 Plus contain increasing levels of Vitamin A , C & E and progressively enhance the skin's appearance to feel comfortable through out the Vitamin STEP-UP SYSTEM. (C-Quence Serums Prices range from $ 257 to $ 329 / 35 ml)
Environ Focus Care Moisture+ Range
The Focus Care Moisture+ range contains various combination of scientifically researched ingredients that may assist delivering moisture boosting benefits to dehydrated skin, leaving it looking healthier and visibly hydrated.  
HA Intensive Hydrating Serum : Contains a high concentration of Hyaluronic Acid and may help to leave the skin visibly smoother and plumper  $139.00 (includes GST) 30 ml
Vita-Antioxidant Hydrating Oil Capsules: These capsules deliver a concentrated burst of vitamin-enriched hydration that may help to protect the skin against the damaging effects of free radicals, leaving it looking visibly refreshed and energized  $139.00 (includes GST) 30 Capsules 
Vita-Complex Super Moisturizer: Contains a variety of dynamic moisturizers and emollients that may assist in enhancing the skin's barrier function, as well as its natural moisturizing factors. It results in skin that feels nourished and refreshed                       $69.00 (includes GST) 50 ml