Face Cosmetics:
Tensing Firming Cream (50 ml)
Immediate lifting effect
Firms facial contours
Anti-wrinkles
Thanks to its hyaluronic acid-based LPG® Exclusive Anti-aging Complex, this treatment accelerates the natural synthesis of collagen and elastin and prevents their degradation. Its immediate lifting effect also helps to visibly redefine the contours of the face.
Radiance Brightening Serum (30 ml)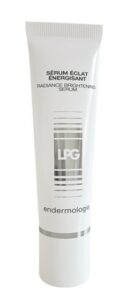 Improves radiance and clarifies the complexion
Diminishes skin discoloration
Anti-wrinkles
The Radiance Brightening Serum is an amazing cocktail that combines a high concentration of Vitamin C, known for its energizing properties, with an active ingredient that enhances skin glow and fights blemishes to regain a uniform and radiant complexion. This daily care also renews the functionality of the main youth and skin firmness agents thanks to its hyaluronic acid-based, exclusive LPG® Anti-aging Complex, which acts efficiently on the synthesis of collagen and elastin and prevents their degradation.
Cleansing Micellar Water (100 ml)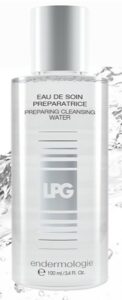 Removes Makeup
Cleanses
Hydrates
The Cleansing Micellar Water cleanses and removes makeup from the face and eyes in one step while respecting the skin's natural balance. Soaked with sugars and plant-based glycerin, it hydrates, soothes the skin and is kind to sensitive eyes.
Anti-Aging Renewal Serum (30 ml)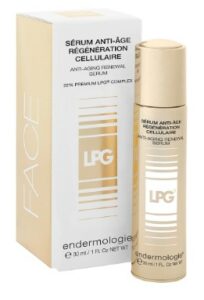 Regenerates for optimal firmness
Refines skin texture
Improves radiance
Anti-wrinkles
Moisturization & intense comfort
This serum uses LPG® 's highest level of anti-aging technology with a synergy of potentialized active ingredients for visible and scientifically-proven results. Its cutting-edge formula includes the ITD encapsulation technology (Intelligence Targeting Device) which allows the serum to precisely deliver the active ingredients at the heart of the target cell (fibroblast) in order to reactivate its metabolism.
Anti-Aging Renewal Cream (50 ml)
Intensely nourishes for comfort
Regenerates for optimal firmness
Refines skin texture
Reduces wrinkles
A new generation of care for higher, immediate and lasting age-defying correction. Its innovative premium complex reveals an incredibly supple, soft and rounded skin throughout the day. Smooth, matt, luminous, the skin has never been so naturally beautiful.
Paraben-free, phenoxyethanol-free.
Body Cosmetics:
Orange Peel Smoothing Complex (150 ml)
Favors fat release
Smooths cellulite
Enriched with LPG® Exclusive Slimming Complex, this proactive treatment releases fat and smooths adipose cellulite, which is typical of gynoid body types.
Bodyfit® technology boosts fat elimination and prevents the creation of new fat cells.
Body Shaping Gel (150 ml)
Inhibits fat storage
Reduces the appearance of excess localized fats
Shapes and redefines the figure
Body Shaping Gel is recommended for reducing the appearance of excess or resistant bulges (particularly from the hips, stomach, waist and arms). Day after day, bulges are visibly reduced, the figure is shaped and redefined and balance is restored to the body contours. Its silky-smooth texture, specially designed to facilitate body massage, allows you to get dressed quickly.
Light Legs Mist (200 ml)
Drains and tones
Circulatory comfort and well-being
This cosmetic care brings together a synergy of three plant-based active ingredients – Arnica, Cypress and Solomon's Seal – that enhance superficial micro-circulation and strengthen the venous walls to reduce the sensation of heavy legs. This action is reinforced by a red algae extract with toning, decongestant and soothing properties on skin microcirculation.